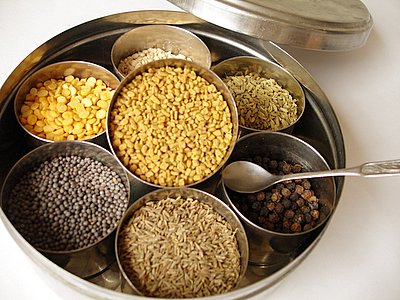 (photo from
Sailus Kitchen
)
Last night Phil and I treated each other to an Indian Food cooking class in
Reisterstown
. We braved the ice & snow and made it there and back safely and it was well worth the money and the trip.
I learned SO much about indian cooking and what spices we've always been wrong about, and which we were correct about. We learned what some of those delicious chutney's at the beginning of a meal are made of (green=mint, pepper, and all things green, blended with lemon and salt & sometimes yogurt; brown= boiled tamarind, spices & sugar) and about the heroic amount of salt (aproximately three day's progress in a salt mine) that makes its way in there to make things so delicious. (oh who cares. it's. so. good.)
My favorite thing we "made" (ie- watched the chef make while we stood awkwardly drooling) was the open faced Samosa (they looked like savory ice cream sundaes). Phil was obsessed with the Pulau (spice infused rice). Both of us were near weeping with happiness and practically had to roll our gluttonous selves down the driveway to get to the car.
Our most favorite foodie friends in Baltimore should look forward to some slightly less impressive, but still delicous remakes of all of these dishes in the coming week... and maybe this time I'll have the sense to take photos (or... breaths between bites).
This morning I woke up still tasting star anise in my mouth (or was it just in my head?) and I came downstairs to the sound of spinning tires around 7am and found our neighbor on the sidewalk, about 2 feet from our front door...... in his car.... perpendicular to the street. With the help of a pile of american apparel cardboard boxes, our snow shovel, my immense car-pushing-strength (ha), and some salt from the saltbox at the top of the hill, we got him facing the right way and off to work. I can barely stand on the sidewalk right now - it's covered over with a glaze of ice, and when i stepped outside, I went slowly sailing down the hill like a cartoon ballerina and couldn't stop laughing crazily while this poor man spun his tires and groaned. It's so fun to see winter in the city, even if it's so brief that no one knows what to do with themselves.